A Quick pasta recipe that is absolutely delicious.  I use Perch in the recipe because it is readily available to me but you could substitute other fish if you would like.
(Serves Four)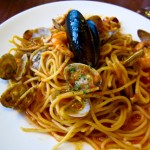 Ingredients
3              Cloves   garlic thinly sliced 4              Tablespoons      extra virgin olive oil 1              Bunch   basil cut finely 1              Pint        cherry tomatoes cut in half 1              Pinch     red pepper flakes 1/2         Pound   small clams 1/2         Pound   mussels 4              oz           white wine 4              oz           Ocean Perch (Cut into small pieces) 4              oz           Monk fish  (Cut into small pieces) 4              oz           Small shrimp 1              Tablespoon        Unsalted Butter 1              Pound   Fresh Tagliolini pasta
Procedure
Place a pot on the fire with water and bring to a boil then add salt for flavor. Heat the oil then place the garlic in the pan.  When the garlic is translucent add the basil, tomatoes and pepper flakes.  Simmer the ingredients for 1 minute then add the clams, mussels and the white wine, cook until the shellfish begin to open.  Next add the rest of the fish and continue to cook.  When the pasta has cooked for 4 minutes, add it to the pan and cook, in the sauce, for 2 minutes.   Add the butter and season with salt and pepper to your liking.