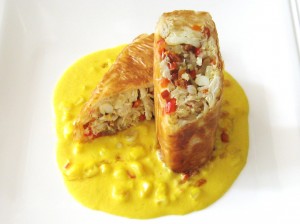 Serves 6
Crab Strudel
1 pound Jumbo Lump Crab meat, picked of all shells
2 Tablespoons Mayonnaise
1 each egg
1 tablespoon lemon juice
1 teaspoon Dijon Mustard
1 teaspoon whole grain Mustard
1 ½ Tablespoons Old Bay Seasoning
½ cup Panko Bread crumbs
2 Tablespoons Fresh Chopped Parsley
9 Sheets Phyllo Dough
3 Tablespoons melted butter
Procedure
• Mix together the Mayo, Egg, Lemon, Mustards, and old bay until completely combined. Pour this mixture over the crab. Toss lightly then add in the panko and parsley. Let this sit for 10 minutes so the panko can absorb some of the liquid.
• Working quickly, unroll the phyllo dough. Brush one sheet with the butter then lay another on top. Do this again with a third sheet. You should have 3 stack of phyllo, 3 sheets each.
• Distribute the crab meat mixture on the phyllo down the long side in a cylinder shape about 1 inch in diameter.  Now roll the phyllo around the crab meat so you have a tight cylinder.  Cut the cylinder in three equal pieces. Sear the sides of  the pyllo until golden brown.  Transfer to a baking sheet covered with aluminum foil and sprayed with non stick spray and bake for 10 minutes at 400 degrees.
Corn Chowder
3 strips bacon
½ large sweet onion, chopped (about 1/2 cup)
1 each carrot, chopped (about 1/3 cup)
1 each celery stalk, chopped (about 1/3 cup)
3 ½ Cups milk, whole or low-fat
1 medium Yukon Gold potato, peeled and diced
1 each bay leaf
4 each sweet corn, roasted and kernels removed
½ teaspoon fresh thyme leaves chopped
To taste Sea salt and fresh ground white pepper
• In a 6 quart stock pot, render the fat out of the bacon lightly browned. Remove the bacon and reserve.
• Add the Onion, Carrot and Celery to the pan and sauté until soft.
• Add the Milk, Potato, Bay Leaf, and Corn to the pot.
• For extra flavor add the corn cob to the pot for extra flavor.
• Bring the milk to a simmer, and do not let it boil. Simmer for 1 hour
• Add the thyme and check the seasoning. Add salt and pepper if necessary.
• Remove the cob and Bay leaf.
To plate this, Put about 2 ounces of the chowder on the plate, sprinkle a few pieces of bacon on the chowder. Cut each strudel in half the cut each half on a bias. Lay one side down and the other lean up against it.