It is fig Season.  I am a very happy boy.  I have a secret love affair with figs.  I try to buy them to cook with but always end up eating them on the way home.  In this recipe, I serve them as a first course but if you want to, you could cut them in half and wrap then and serve them as a Hors D'oeurve.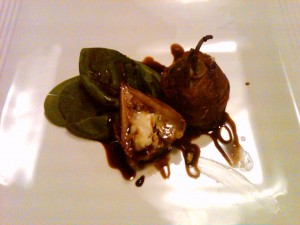 8 large firm ripe figs
8 cubes (about 1/2 inch each) gorgonzola cheese
8 thin slices prosciutto di Parma
Preheat oven to 450F.
Cut a cross in the top of each fig cutting about 1/2 inch deep. Pull the four corners open and insert the cube of cheese into each fig. Fold a slice of prosciutto in half and wrap around the sides of the figs, overlapping edges. Secure prosciutto with a toothpick. Roast until prosciutto is crisped on edges and fig is warmed through, about 12 minutes. Serve hot.