So these are my favorite cookies this time of year.  And if you know my eating habits, that is saying a lot.  They scream Christmas to me.  I choose to under cook them a little so they are very soft in the middle. Try them and tell me what you think.
Wine Pairing:
Laurie said these cookies rock with a sweet Gewürztraminer or late harvest Riesling!
Ginger Cookies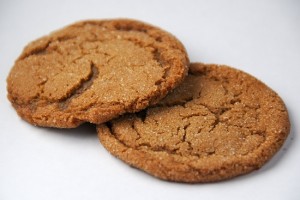 ¾ Cup Butter at room temp
½ teaspoon Salt
1 Cup Sugar
1 each egg
¼ cup Molasses
2 cups Flour
1½ teaspoon Ground Ginger
1 teaspoon Cinnamon
1 teaspoon Baking Soda
Directions:
These are very easy.  Pre heat oven to 350° and mix all of the ingredients together in a Kitchen Aid with the paddle attachment on a very low speed until just combined.  Do not over mix this dough.  Scoop out dough into the size of ping-pong balls. Flatten the balls and toss in sugar.  Put on a cookie sheet spaced well and bake for about 9 to 9 and 1/2 minutes.