So summer time is here again. You walk into any grocery store and what do you see. A huge pile of corn with people husking their selection with vigor and fury. I say why? I have never seen the benefit to doing this. I walk over and weave my way through the crowd and look over the pile. I choose the fattest cobs and make my way out of the crowd. I bring it home just like that. Here is one of my favorite corn recipes.
Roasted Corn Cake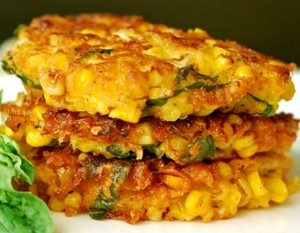 3 Cups Roasted Corn
1 Cup Milk
5 Each whole eggs
½Cup Bread Flour
1tsp Baking powder
1tbls olive oil
½ Cup Shallots diced fine
½ Cup Diced tomatoes
2 Cups Corn, roasted
2 Cups Corn Bread
t.t. Salt and Pepper
Preheat oven to 425. Soak whole ear of corn, with husk still on, in water, for 5 minutes. Roast 6 ear of fresh sweet corn for 45 minute while still in its husk. Remove the corn from the oven and let cool until you can husk it. Take the corn off the cob. Puree 3 cups of it with 1 cup of milk in a strong blender. When the mixture is smooth, set on lower speed and add in the eggs. Mix until combined. Then add the flour and baking powder to the batter. From this step work quickly as to not over rise the baking powder. Next, sauté the shallots until translucent, add the tomatoes and remaining roasted corn. Chop the corn bread (I have used Corn Muffins in a pinch) into large crumbs and add to shallot-corn mixture. Now combined both the batter and the mixture and season with Salt and Pepper. Grease your molds (if using them) and put in your corn batter. Bake at 425 until a toothpick can be inserted into the cake and will come out clean. It should take about 30 to 40 Minutes.