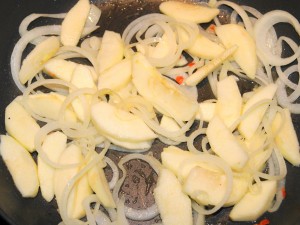 4 tart apples
2 Tablespoon sweet butter
2 Tablespoons Olive oil
2 med. Sweet onion, thinly sliced
1 Tablespoon Chopped Thyme
1 Tablespoon Lemon juice
1 Tablespoon Chopped Parsley
Freshly ground black pepper
1. Peel and Quarter the apples, remove the core and slice lengthwise into 1/4″ slices.
2. Heat 1 tablespoon of the oil and butter. Sauté the onions, stirring often until golden brown. Remove from the pan and reserve.
3. Heat remaining oil and butter. Sauté the apples about 6 minutes, until golden brown, turning a few times. Apples should be tender, not mushy.
4. Add the thyme and lemon juice and cook until dry.
5. Combine the onions with apples in the pan. Generously grind black pepper over mixture. Garnish with parsley.