So, it is the beginning of Crab Season. Still kind of hard to come by but when you find it, here is a simple recipe for a delicious Crab Salad that is sure to impress. Being in Maryland I naturally prefer the Blue Crab. After all it is the official Maryland state crustacean. No matter what kind of crab you use there are two things to remember. 1. Use a good quality crab. Most of the crab that is in the can has been overly pasteurized and has no flavor left. And 2. Clean the crab well. Make sure you go through the crab and get out any shells that may be left.
Sherry Vinaigrette
2 ounces Sherry vinegar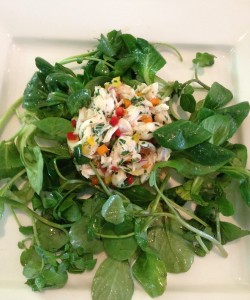 1 ounce Sherry of good quality
1 Tablespoons Dijon mustard
1 Tablespoons honey or agave nectar
1 cup olive oil
1 teaspoon chopped garlic
Salt and freshly ground pepper to taste
Mix all of the ingredients except the oil together.
Using a stick blender or a blender,
slowly drizzle the oil in while the blender is running.
Crab Salad
1 pound Jumbo Lump Crab
2 Tablespoons each Red Yellow and Orange Peppers, small diced
2 Tablespoons Red Onion, finely diced
2 Tablespoons Chives, Chopped
Salt and freshly ground pepper to taste
Toss everything together in a bowl.
Avocado Salad
2 Avocados, medium diced
1 medium sized ripe tomato, medium diced
½ of a small red onion, finely diced
2 Tablespoon Caesar Salad Dressing either homemade or Store bought (I make mine)
Salt and freshly ground pepper to taste
Cut the avocado in half and take out the pit. Cut the flesh with a dull knife down to the skin into a medium dice (that's cut in one direction than in the other direction making a crosshatch). Scope the flesh out with a large spoon. Mix in the rest of the ingredients and mix well, smashing some of the avocado in the process.
Small Spicy Green Salad
Arugula and watercress tossed lightly in the sherry Vinaigrette
To plate this salad, I use a ring mold, put down 1/5 of the avocado salad, then top with 1/5 of the Crab Salad. Add the Green Salad around the plate.