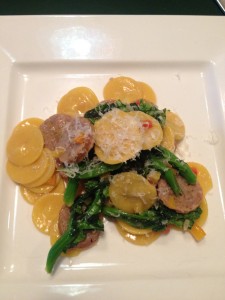 Italian sausage says summer to me.  Whenever we had a party as a kid my father was making something with Italian Sausage.  This is a classic Italian recipe that you just can't change to make better.  It is great just the way it is.  I make my own Orecchiette but you can just buy it or use another pasta if you prefer.  The broccoli rabe is a little bitter but really adds to the dish.  If you want you could substitute broccoli florets but I think you will love the Rabe if you use it this way.  I find it now in the local supermarket. It can also be called rappini.
2 pounds broccoli rabe
pound sweet Italian sausage
5 tablespoons extra-virgin olive oil
3 large garlic cloves, crushed
salt
1 teaspoon crushed red pepper flakes
3 tablespoons unsalted butter
1 cup chicken stock
Parmigiano Reggiano, freshly grated
1 pound orecchiette pasta
Cut off and discard the lower part of the broccoli rabe stems, leaving the broccoli about 5inches long. Remove the large tough leaves, leaving just tender leaves and flower buds.
Remove the casing from the sausage and chop it. In a large skillet heat the olive oil over medium-high heat. Add the sausage meat and cook until the sausage is no longer pink, about 3 minutes. Add the crushed garlic and red pepper flakes and continue to sauté until the sausage is lightly browned, about 1 to 2 minutes.
Drain the fat from the pan and add the remaining 4 tablespoons of olive oil. Add the broccoli rabe to the pan and toss. Add the stock and bring to a boil. Cover the pan and steam the broccoli until wilted and bright green, about 3 minutes. Stir in the butter until melted, then boil gently, uncovered, for several minutes to reduce and concentrate the liquid. Taste and season with salt and pepper. Set the broccoli aside until the pasta is ready.
Meanwhile, bring 6 quarts of salted water to a boil. Cook the orecchiette. Drain well and return them to the pan over low heat. Add the broccoli rabe sauce and toss gently to blend. Taste carefully for seasoning, and remove from heat. Add half of the grated cheese and toss to blend. Transfer to and sprinkle with the rest of the grated cheese. Serve immediately.