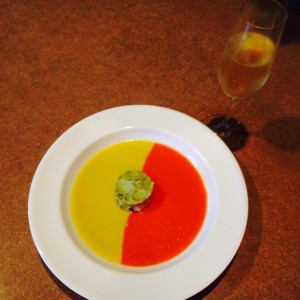 Michael made a Gold and Red Tomato Gazpacho with Avocado & Crab that Laurie paired with Champagne.
Do you have a lot of tomatoes and cucumbers in the garden at the end of the season that don't look exactly perfect? If you are like me, you pick the perfect looking veggies and leave the blemished  just hanging. That is until now. Make a Gazpacho. It is quick and easy and very versatile. This classic Spanish soup can be served with almost any seafood you want. I have served it with Roasted shrimp, Crab salad, even Seared Coho Salmon. Or you want more of a garnish, you can dice up some of the ingredients that go into the soup and toss that with a sherry Vinaigrette. It is important to season this well to bring out all the flavors.
She Wines Pairing: A French Champagne, a nice Italian Soave from Veleto Italy or a Gavi form Piedmont, Italy is a great match as the acidity of the wine will nicely match the acidity or the tomatoes.
Ingredients:
2 pounds tomatoes, cored and coarsely chopped
1 seedless cucumber, peeled and coarsely chopped
1 medium red onion, peeled and coarsely chopped
2 red bell peppers, coarsely chopped
1 jalapeño, seeded and coarsely chopped 2 cloves garlic 1/4 cup sherry vinegar
1/3 cup extra-virgin olive oil
Salt and freshly ground pepper
In a blender, puree the vegetables until smooth. Add in the Vinegar and Oil slowly while still blending. Push through a Coarse Mesh Strainer. Season with salt and pepper, and chill in the refrigerator for at least 1 hour before serving. This soup will actually be better the second day after all of the flavors have intermingled.