It is fall when you see the butternut squash everywhere. And it is everywhere.  While a bunch of people are adding all sorts of other flavors to it, I prefer butternut prepared simply.  In this recipe I add truffle to increase  flair but I can easily be done without with remarkable results.
Ingredients
2 medium butternut squash
3 tablespoons olive oil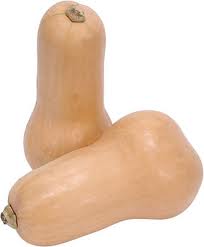 2 large yellow onions diced
2 tablespoons minced shallots
1 tablespoon minced fresh garlic
1 teaspoon fresh thyme remove stems
4 cups chicken or vegetable stock
1 cup heavy cream
2 tablespoons truffle oil, depending on strength of flavor you prefer
to taste Sea salt
to taste freshly ground pepper
Directions
Preheat to 400 degrees F.
Cut the squash lengthwise and remove seeds and strings. Brush the cut surfaces with the oil. Season with salt and pepper. Place squash, skin side up, onto a sheet pan. Roast in the oven for 45 minutes, or until the flesh is soft when you poke the skin with your finger. Set aside and let cool. When cool, scoop out the flesh with a large spoon.
In a large, heavy-bottomed pot, heat the 3 tablespoons of olive oil and add the onions, shallots, garlic, and thyme. Cook over medium heat until the onion is translucent.
Add the squash and stock. Bring to a boil, reduce heat to low, and simmer for 30 minutes.
Puree the squash in a blender or food processor.
Return to the pot. Just before serving add the cream and truffle oil and bring back to just a simmer. If you boil the soup after you add the truffle oil, you will lose most of that flavor. Season to taste and serve hot.