1 pound Brussels sprouts, outer leaves removed, heads halved through their roots
1 tablespoon olive oil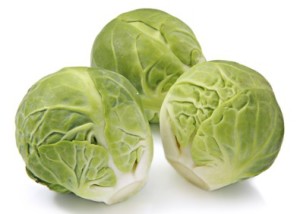 Salt and pepper, to taste
1 shallot, finely chopped
2 tablespoons maple syrup
1 tablespoon Dijon mustard
1 ounce sherry vinegar
2 ounces cream sherry
1 tablespoon butter
Blanch the Brussel Sprouts in a pot of boiling water for 2 minutes.
Heat the olive oil in a heavy duty pan or cast iron skillet over high heat for 1 minute. In the pan, stir together Brussels sprouts, salt, and pepper. Turn most of the Brussels sprouts so that they are cut sides down.
Roast the Brussels sprouts for 8 minutes or until slightly charred and cooked through.
Stir in the shallot and cook for 2 minutes. Add in the maple syrup, mustard, vinegar, sherry and butter. Toss well. Cook for 1 minute more. Taste for seasoning, and add more salt and pepper if needed.