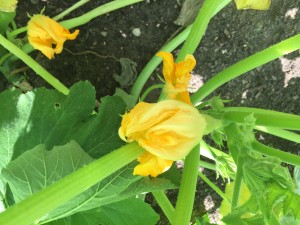 So if you are like me, you have tons of Zucchini Blossoms in your garden.  More Zucchini than you will ever eat. And you know half of them will not turn into squash.  So here is a great recipe to use up the extra flowers.
½ pound lump crab
¼ cup chopped chives
2 Tablespoons chopped shallots
4 ounces Mascarpone Cheese
2 teaspoons Salt
1 teaspoon Pepper
1 egg, beaten
Combine the mascarpone cheese, chives, shallots, salt and pepper. Gently fold in the crab being sure to keep pieces of crab as large as possible.
Divide crab mix equally and stuff into 6 zucchini blossoms.
Reserve refrigerated for at least 30 minutes.
Dredge stuffed blossoms in flour seasoned with sea salt and black pepper, coat with eggs,
Heat olive oil in a pan and pan fry until golden brown.