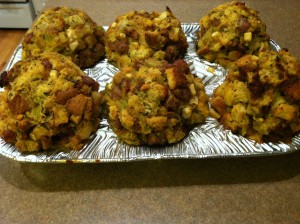 Basic Stuffing Recipe
Ingredients
2 Loaves Italian Boules or Bread, cubed and  lightly toasted 2 tablespoons butter 1 large onion, finely chopped 2 stalks celery, finely chopped 2 eggs, lightly beaten 2 cups chicken broth 2 teaspoons rubbed sage 1 teaspoon garlic powder salt and pepper to taste
Directions
Allow the toasted bread to sit approximately 24 hours, until hard.
Preheat oven to 325 degrees F (165 degrees C). Lightly grease a muffin pan.
Melt the butter in a medium saucepan over medium heat. Stir in the onion and celery and slowly cook until soft. Remove from heat and drain.
Mix the eggs with the chicken broth and then add mixture into bread cubes. The mixture should be moist, but not mushy. Mix in the onion, celery, rubbed sage, garlic powder, salt and pepper. Use a little extra broth, if necessary, to attain desired consistency.
Press the mixture into the muffin pan. Bake 35 minutes or until the top is brown and crisp.
For the Sausage Muffins
Take 1 pounds of Italian sausage out of the skin and cut into small pieces.  Sauté in a little olive oil until almost cooked through. Drain out the fat and mix into the stuffing with the onion and celery.
For the Oyster Muffins
Purchase 1 pint of shucked oysters.  Replace half of the Chicken stock with the liquid in the oysters.  Rough chop the oysters and fold them into the stuffing with the Onions and Celery.