Ingredients
1 cups fine stone-ground cornmeal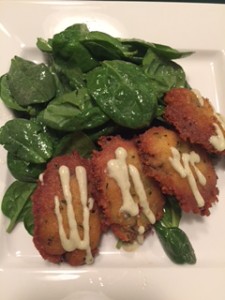 1/3 cup all-purpose flour
2 teaspoons baking powder
1 tablespoon Sea Salt
1 large eggs
1 large egg yolk
1 cups whole milk
1/4 stick unsalted butter, melted and cooled slightly
1/4 cup minced chives
18 shucked oysters, drained
Vegetable oil, for frying
Directions
1. In a large bowl, combine the cornmeal, flour, baking powder and salt. Whisk the egg, milk, onion and chives; add to dry ingredients and mix until just until combined.
2. Dredge the oysters in the hushpuppy mix and pan fry on both sides until golden brown.