So are You saying, "what???Radishes???" It may not sound normal but you are gonna have to trust me on this one.  They are great. Try them with fatty or rich foods. Pulled Pork BBQ comes to mind.  You will be pleasantly surprised.
1 pound of Radishes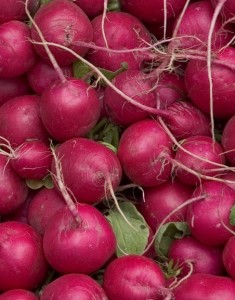 2 tablespoons olive oil
Salt and freshly ground pepper
2 tablespoons unsalted butter
1 tablespoon fresh thyme, chopped
1 tablespoon garlic, chopped
Preheat the oven to 450°. Trim the radishes.
In a large ovenproof heavy skillet, heat the oil until hot. Add the radishes, season with salt and pepper and cook over high heat, stirring occasionally, until lightly browned in spots, about 2 minutes. Transfer the skillet to the oven and roast the radishes for 15 minutes, until crisp-tender.
Return the skillet to the burner and stir in the butter to coat the radishes. Add the thyme and garlic. Heat until the garlic is aromatic. Serve hot.