This Wild Mushroom Strudel can be served as a first course with a sauce or an accompaniment with a meat entrée such as Beef or Lamb.
Ingredients:
2 lbs. Crimini, Oyster, Shiitake and/or other mushrooms
1/4 cup Shallots, minced
3 cloves Garlic, sliced paper thin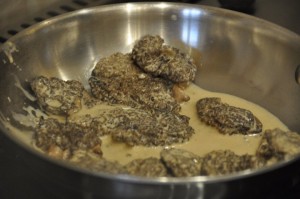 4 Tbsp Olive Oil
Salt and Pepper
8 sheets Filo Dough
3/4 cup Butter, melted
8 oz Goat Cheese
Preparation:
Preheat oven to 400°F.
Cut the mushrooms into slices or quarters. Sauté with oil over moderately high heat, stirring frequently. When golden brown and all the liquid is evaporated, add in the Shallots and Garlic and cook until aromatic and translucent. Season to taste with salt and pepper.
Spread a sheet of filo dough on a damp towel, narrow end toward you. Brush with melted butter. Repeat with second, third and forth sheets, stacking them on top of the first sheet. Put half the mushroom mixture on long side of the dough. Crumble the Goat Cheese and spread evenly over the mushrooms. Roll the filo around the Mushroom Mix into a tight cylinder. Prepare the second strudel.
Put strudels on tin foil lined baking sheet and brush with melted butter. Bake in oven until golden brown (about 20 minutes). The strudel cuts easier with a serrated knife.