About Us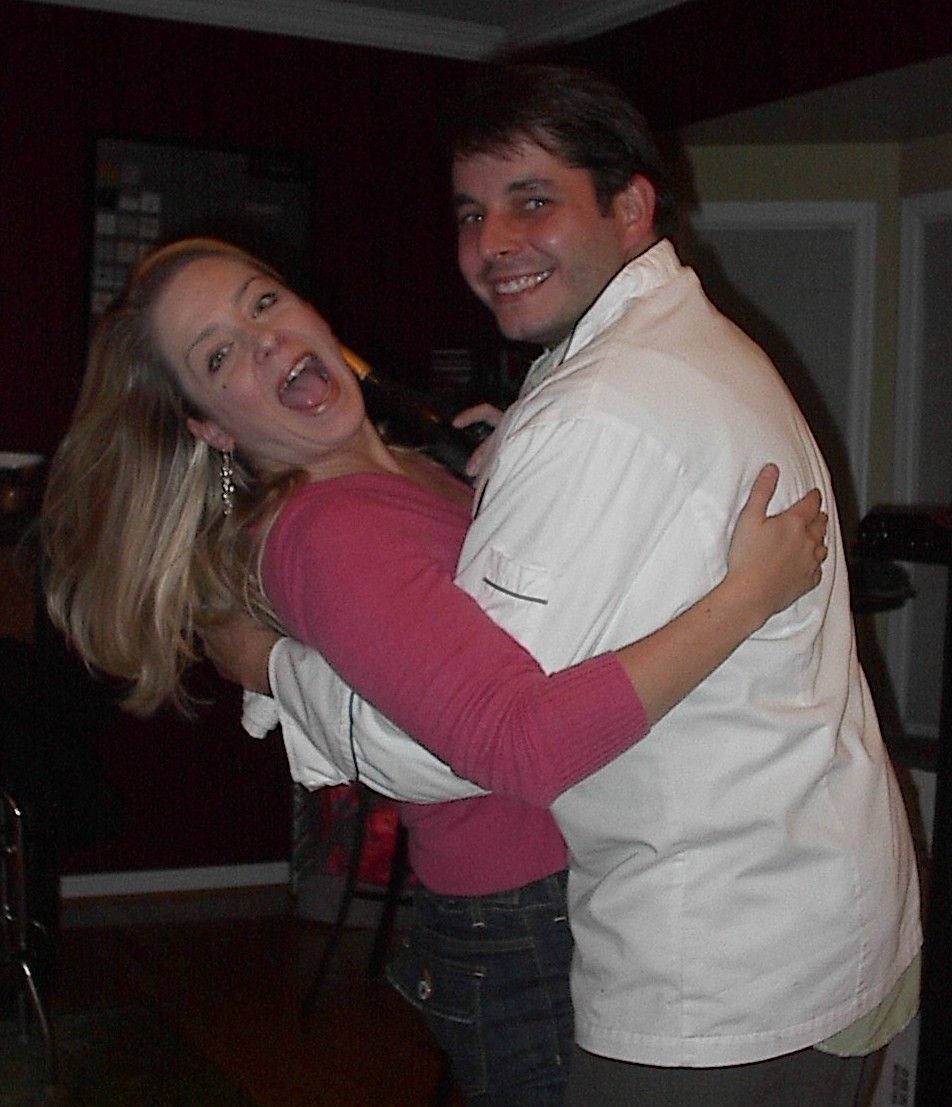 Laurie met Michael over a decade ago at a wine and food pairing course he was teaching. Laurie had signed up for the course to learn about wine and, hopefully, meet some eligible bachelors. Instead of meeting another student, she realized there was instant chemistry between her and the teacher.
In true Jersey girl fashion, she bantered with Michael during the class and, soon after, they began dating. Their mutual love of fine dining inspired Laurie to change careers and study wine!
Laurie and Michael were married in 2002 and now have a daughter, Michaela, who in true Forster fashion, loves all kinds of food, from Mussels to Macaroni and Cheese.
The Forsters' are passionate about blending their talents to create meals where friends and family can connect. They often host holiday meals for family or impromptu dinner parties for friends. They noticed that people wanted to learn more about creating gourmet meals with masterful wine pairings. So, Laurie and Michael created He Cooks She Wines® in order to inspire people to deepen their love of food and wine at the dinner table.
About Michael
Chef Michael Forster started cooking at an early age when his mother would ask him to help bake a cake for someone's birthday or help to cook dinner. In college, Michael would cook meals for all his friends and finally realized that a culinary career was his passion.
Michael studied at The Culinary Institute of America and apprenticed at Le Cirque, in New York City where he learned traditional French cooking from basic sauces to intricate plate presentation.
Over the last decade, Chef Forster has held positions in some of the country's top restaurants including Osteria del Circo in New York City, Hampton's at Baltimore's Harbor Court Hotel and, now, as full time private chef. As Chef de Cuisine of Hampton's Restaurant, he brought the restaurant's lack luster reputation back to sterling and eventually was awarded Zagat ratings of Food 28, Décor 29, Service 27, Top restaurant in Maryland, The American Academy of Hospitality Sciences 5 Star Diamond Award, The Mobil Four Star rating, AAA Four Diamond Awards and Condé Nast: Second Best Restaurant in America.
Chef Forster has also participated in special events alongside some of the world's finest chefs including Jean Louis Pallidan, Michael Ginor of Hudson Valley Foie Gras, Teresa Barrenchia, and Rudy Speckemp CMC.
Michael is currently a Private Chef for a Prominent Washington D.C. family and has cooked for many of the D.C. elite, including heads of State, Foreign Diplomats and Supreme Court Justices.
About Laurie
Laurie Forster, The Wine Coach®, is a wine educator, writer and author of the award winning book The Sipping Point: A Crash Course in Wine. As The WineCoach®, Laurie creates unique corporate keynotes, team building events and fundraisers that deliver on her mission to demystify wine—one glass at a time. She has provided wine edu-tainment to thousands of corporate clients, including Microsoft, MetLife, JP Morgan, Re/Max, Merrill Lynch, McCormick Spice Company and the US Chamber of Commerce, to name just a few.
She began her wine career in Manhattan where she studied with the American Sommelier Association to obtain her certificate in Viticulture and Vinification. Laurie has since earned an Advanced Certificate with Merit from the Wine &
Spirits Education Trust (WSET) and has trained at the Culinary Institute of America in Napa Valley. Her wine travels include France, Italy, Austria, Australia, New Zealand, California, Oregon and all over the East Coast.
Laurie is a regular contributor to several magazines and a sought after guest expert on radio and TV stations across the country. Her award winning book The Sipping Point: A Crash Course in Wine reflects her fresh perspective on wine education and has been featured in many fine publications including Wine Enthusiast.