Great Gatherings 2014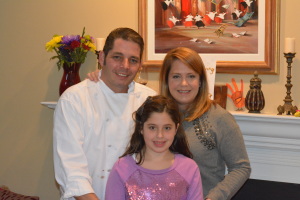 Chef Michael, Laurie & Michaela Forster wish you the happiest of all HOLIDAY seasons!
Reception Wines:
Canella Prosecco NV, Veneto Italy
Meiomi Pinot Noir 2012, Sonoma Coast
Seated Wines:
Milbrandt Riesling 2011, Columbia Valley
Ramon Bilbao Reserva Rioja 2008, Rioja, Spain
Nada Fiorenzo Nebbiolo 2011, Piedmont, Italy
All wines are available at TotalWine.com
Hors d'oeurves
2. Sausage, Pepper and Onion Tart in Puff Pastry
Ingredients:
4 Italian sausage links (sweet, hot, or a couple of each)
2 Tbsp olive oil
1 green bell pepper, sliced into 2 to 3 inch long strips
1 red bell pepper, sliced into 2 to 3 inch long strips
1 bell pepper of yellow color
4 garlic cloves, sliced paper thin
1 large sweet or yellow onion, sliced
1 small (15 ounce) can of diced tomatoes
1 Tbsp of dried oregano
1/2 cup red wine (optional)
1/2 teaspoon red pepper flakes (optional)
Salt to taste
Directions:
Heat the olive oil over medium heat in a large pan that has a lid. When the oil is hot, add the sausages and brown them slowly. You want a gentle browning, not a sear. Cook for several minutes, turning them occasionally so they brown on all sides. When the sausages are browned, remove from the pan and set aside.
Increase the heat to high and add the onions and peppers. Once the onions and peppers soften, sprinkle some salt on them. Once you get some searing on the onions and peppers, add the garlic and red pepper flakes (if using). Cook for 1 more minute.
Add the red wine if you are using, and with a wooden spoon scrape the bottom of the pan to release all the browned and blackened bits. Let the wine cook down by half.
Add the tomatoes, oregano and stir well to combine. Add the sausages back in. Bring to a simmer then reduce the heat to low. Cover and simmer until the peppers are soft the sausages are cooked through, about 20 minutes.
To make this recipe into tartlets, remove the sausage from the mixture. Put the mixture into a food processor and pulse until rough chopped. Dice the sausage and mix in. Spoon this mixture into puff pastry lined in a mini muffin tin. Sprinkle the top with parmigiano reggiano and bake for 20 minutes at 400 degrees.
3. Blue Cheese, Spiced Pear and Walnut Tart in Pie Crust
Ingredients:
1 ripe pear – peeled, cored, and diced
½ teaspoon Gram Masala (spice)
4 ounces blue cheese, crumbled
2 tablespoons light cream
to taste ground black pepper
1 package pie dough
Directions:
Lightly saute the pears with the Gram Masala.
Mix together blue cheese, pear, and cream. Season to taste with pepper. Spoon mixture into pie dough fitted into mini muffin tins.
Bake at 350 degrees F (175 degrees C) for 15 minutes. Serve warm.

Photo Credit FineCooking.com
4. Shrimp Sizing
Some of the standard sizes you'll find are:
61-70, 51-60 Really small shrimp, often used for shrimp salad. Often labeled Tiny, Extra Small and Small
43-50, 36-42 Labeled medium or medium large. I'd use these in pasta or mixed seafood dishes
31-35, 26-30 These are readily available, often labeled large, and my go-to size when budget is a consideration
21-25, 16-20 Often labeled jumbo, these are my choice when shrimp, prepared with few other ingredients, are the main course. When serving grilled shrimp or simple sautéed shrimp for dinner, each diner might get 4-6 of these.
10-15, usually 10 These are a treat; an indulgence as expensive as they are impressive looking. They may be referred to as colossal.
U-5 Enormous Usually head on. Special Order. As big as a lobster tail.
6. Wine & Cheese Pairings for the Holidays
Camembert or Pepper Jack with Dry Riesling
Manchego with Rioja – Honestly Manchego goes with all wines!!
Parmesan Reggiano with Nebbiolo
8. Try making Chef's famous Stuffing Muffins for Thanksgiving!
9. Download Laurie's FREE App The Wine Coach for iPhone and Android