Michael suggests this simple and delicious dessert for the Holidays.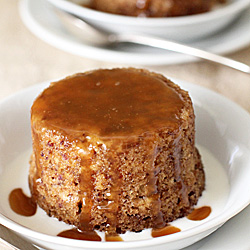 Laurie suggests pairing it with a 20 yr Tawny Port.
Ingredients:
200g Pitted Dates
100g Figs
75g Butter
50ml Water
2 each Whole Eggs
100g Brown Sugar
50g Cake Flour, sifted
3/4 tsp Baking Powder
1/2 tsp Vanilla Extract
Method :
1. Preheat oven to 350.
2. Cook dates, figs, butter and water in a pot over medium heat until fruits are soft (about 15 minutes), stirring constantly. Remove from heat and set aside to cool.
3. Blend fruit mixture to form a puree and set aside to cool completely.
4. Whisk eggs and half of the sugar for about 5 minutes till thick.
5. Fold in fruit puree and gradually add in flour, baking powder and remaining sugar. Mix well.
6. Spray muffin tins with baking spray and fill with pudding batter.
7. Bake in oven for 30 – 35 minutes or till cooked.