Serves 4
2 pounds of Fresh Tuna Steak about 2 inches thick
Salt
Olive Oil
For the White Beans
¼ cup olive oil
1 medium yellow onion, finely chopped
2 medium garlic cloves, thinly sliced
2 (15-ounce) cans cannellini beans, drained and rinsed
1 1/2 cups chicken stock
6 tablespoons finely chopped fresh Italian parsley
3 tablespoons sea salt
1/4 cup Olive oil
For the Salad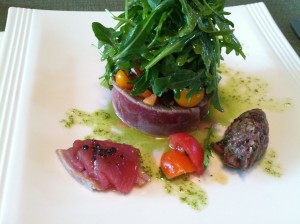 12 Ounces Arugula
1 Tablespoon Lemon Juice
3 Tablespoons Extra Virgin Olive Oil
1. Heat oil in a small, heavy-bottomed pot over medium-high heat. Add onion and garlic, sweat until translucent, about 4 minutes.
2. Reduce heat to medium low and add beans and Stock. Bring to a simmer and cook, stirring occasionally, about 20 minutes. ( You can use dried beans but they need to be soaked overnight and cooked for about 1 hour.)
 3. Remove from heat and stir in parsley and salt. Season with additional freshly ground black pepper as desired.
4. Take about a quarter of the beans and Puree them with 1/4 cup of Olive oil.
5. Stir in the remaining beans and check the seasoning again.
6. Heat a black steel or cast iron pan until searing hot. Salt the Tuna steak generously and rub with some oil. Sear the Tuna on both sided for about 1 minute each until just golden brown. DO NOT over sear. You want the Tuna Raw on the inside.
7. Slice the Tuna About ¼ inch thick. Line a 3 inch ring mold or cookie cutter with the tuna, about 3 Slices each, overlapping about 1 inch. If you don't have a ring mold or cutter, go to your local hardware store and buy a white pvc pipe joint and scrub it well. It will work.
8. Fill the center of the tuna, still in the mold, with the bean mixture so it is even with the top of the tuna.
9. Toss the Arugula with the lemon juice and Extra Virgin Olive Oil and season with salt and pepper. Remove the ring and mound the salad on top of the tuna and Beans.
10. Garnish with a good dollop of tapenade.