So the other night I was trying to figure out something easy for dinner. I remembered doing something like this recipe for a special dinner at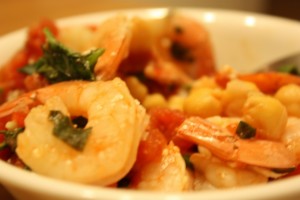 Osteria Del Circo in New York and it was a big hit and surprisingly simple. If you don't like Garbanzo beans you can substitute any canned beans. It was so good that my 9 year old daughter keeps asking me to make it again. If you need a recipe for the shrimp stock I posted one here. I am Serving this over some blanched Asparagus. So Good.
Shrimp and Garbanzo beans
1/2 cup Olive Oil
1 pound Shrimp
1 clove Garlic sliced thin
1 medium onion Chopped Fine
¼ cup White wine
1 cup Shrimp Stock
28 ounces Garbanzo Beans Canned rinsed well
2 Tablespoons Butter
1 sprig Fresh Rosemary chopped fine
1 cups Cherry Tomatoes Halved Seeded
Procedure:
1. Sauté shrimp in half the oil and lightly brown on both sides. Season with salt and pepper. Set shrimp aside.
2. add the rest of the oil to the pan and sauté the garlic and onion until translucent.
3. Add the garbanzo beans and wine to the pan. Reduce by half.
4. Add the Shrimp stock, the Butter and rosemary. Cook for about 5 minutes.
5. Add the cooked shrimp and the Cherry Tomatoes and cook for another two minutes.