Ingredients:
Four 8oz. portions of Swordfish Loin, center cut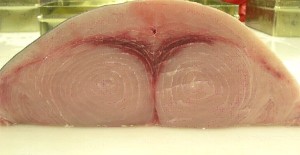 Freshly ground pepper to taste
Salt to taste
1/2 cup olive oil
1 Medium Onion, Dice
2 each Garlic Cloves, Sliced paper thin or chopped
2 Tbls. Small Capers
2 each anchovy fillets, Chopped (optional but highly recommended)
28 oz. can Whole plum tomato, cut or hand crushed with juice
1/2 c. Nicoise or Kalamata olives
8s mall red new potatoes, boiled till tender, then quartered
1 lb. green beans, trimmed and blanched
2 each hard cooked eggs, quartered
Preparation:
Season Swordfish with Salt and Pepper. Heat oil, over medium high flame, in a metal casserole or straight sided frying pan.
Once hot, sear the swordfish on both sides until golden brown.
 Remove the swordfish from the pan and hold warm. In the same pan, sweat the onions until translucent. Now add the garlic, capers and anchovies. Cook until aromatic and the anchovies are just about dissolved.
 Add the tomatoes and bring to a simmer.
 Add in the swordfish and olives. Make sure the fish is covered with the sauce. Cook for about 10 minutes. Swordfish should not be overcooked or it will become very dry.
 Add in the potatoes and green beans. And cook until hot, about 2 minutes.
 Spoon each Portion into a bowl and Garnish top with 2 quarters of the hard cooked egg.