This fish dish is very versatile. It can be serves over a salad for a lunch or light dinner or paired with heavier sides for a complete dinner. 
Serves 4
Ingredients 2 tablespoons Olive oil
2 Rainbow trout, Split,  Head, Tail and fins removed,  pin bones removed
1 teaspoon Capers; rinsed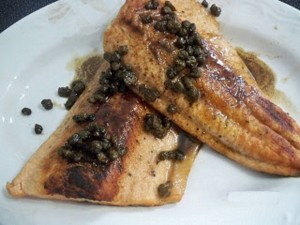 2 cloves Garlic, Sliced thin
1 teaspoon Chopped parsley
1 Tablespoon  Lemon Juice ¼ Cup White Wine 3 tablespoons Butter; cut in small cubes 1 cup cherry or grape tomatoes cut in half
to taste Salt
to taste Freshly ground black pepper;
Preparation
Heat the oil in a large skillet. Season the trout filets with salt and pepper. Place the trout, skin side down in the pan, apply slight pressure to the fish to hold the skin to the pan and cook for 3 minutes. Remove and place on a plate and keep warm. To the same skillet, add half the butter and the capers. The butter will begin to brown and foam and the capers will begin to open like a flower.  Add the garlic and sauté until the Garlic is translucent but not brown.  Add the lemon Juice and wine and gently shake the pan to incorporate the liquids. Add the remaining butter and tomatoes bring to a boil. Remove from the heat, and whisk in the parsley. Season with salt and pepper, and pour atop the trout and serve.