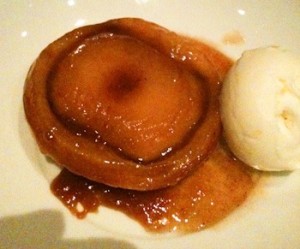 So I make these individual tarte tatins without any butter to reduce the fat.  The puff pastry already has enough.  And then serve it with a great rich Ice Cream and you have a winner.
She Wines Pairing: You'll need a sweet wine to match the luscious sweetness of this dessert. Try a Canadian ice wine, French Sauternes or late harvest Riesling for a perfect pairing!
Makes 4 portions
Ingredients
2 large firm sweet apples, peeled and halved. I prefer Fiji apples
1 cup sugar
1 Tablespoon Light Corn Syrup
¼ cup Water
½ cup white wine
1 sheet frozen puff pastry (from a standard 17 1/4-ounce package), thawed
All-purpose flour, for dusting
4 four-ounce ramekins
Directions
1. Heat oven to 400 degrees. Core apples using a melon baller to retain the rounded shape of the apples.
2. Over medium heat in a thick bottom skillet, heat sugar, corn syrup and water. Cook until it turns a rich golden color; swirling occasionally, about 6 to 7 minutes. Meanwhile, cut puff pastry into discs slightly larger than the mold.
3. As the sugar mixture begins to caramelize, keep swirling in the pan. Careful! This sugar is super-hot. When a dark caramel color is reached, remove the pan from the heat. Carefully add the wine to the pan. This will bubble violently for a few seconds. Now swirl the pan to make sure all of the sugar is the consistency of syrup. Pour ¼ of this syrup into each of the 4 ramekins.
4. Add apples, rounded sides down and top apples with puff pastry. Place in oven for 10 minutes. Reduce heat to 375 degrees and bake until pastry is golden brown, about 15 to 20 minutes.