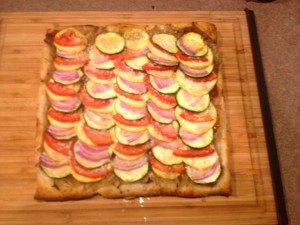 2 each Vidalia Onions, Sliced
1 each Zucchini, Sliced 1/8 inch thick
1 each Yellow Squash, Sliced 1/8 inch thick
2 each Red onion, Sliced 1/8 inch thick
6 each Roma tomatoes, sliced ¼ inch thick
¼ cup Parmigiano-Reggiano, Grated
1 sheet puff pastry
To Taste Extra Virgin Olive Oil
To Taste Salt and Pepper
1. Slice and lightly caramelize the Vidalia onions in a light bit of regular olive oil. Season with salt to help release the moisture in the onion.
2. Prepare all of the other vegetables. I prefer using a mandolin to slice the squashes and red onion.
3. Pre heat the oven to 375.
4. Assemble the tart by first, lining a sheet pan with aluminum foil. Spray lightly with cooking spray and lay out the Puff pastry. Next spreading a thin layer of the Vidalia on the puff pastry going ½ away from the edge. Now alternating each veg, overlapping slightly, make straight lines going across the caramelized onions. Repeat this until the onions are covered completely.
5. Sprinkle the top with Parmigiano and lightly drizzle with the extra virgin olive oil and season with the salt and pepper. Bake until the bottom of the puff pastry is lightly browned, about 20 minutes.