Why don't more people eat steamed clams? I love steamed clams and they are so simple to make. Jazz it up with some Julienne Vegetables and you have a hearty meal. They only info you need to know about clams is the type. There are over 2000 types of clams out there but most places you buy your clams are selling Quahogs or soft shell. Littleneck and cherrystone are just size names of Quahogs. You may also come across Mahogany clams. These are the clams we had at our wedding thanks to Browne Trading Co. in Maine. These clams are small Ocean Quahogs and are even more delicious. Soft shell clams have a breathing tube sticking out. Either way you go the results are fabulous. Enjoy! Have some crusty rustic bread to dip into the clam broth.
Steamed Clams
Serves 2-4 people as an appetizer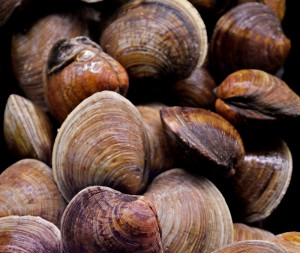 Ingredients:
2 tablespoons olive oil
1 small fennel bulb, sliced very thin
3 cloves fresh garlic, minced
2 pinches Crushed Red Pepper flakes
1/2 cup dry white wine
2 pounds Littlenecks clams rinsed and cleaned
3 Tablespoons Unsalted butter
3 tablespoons fresh parsley, chopped
*optional 1 small lemon cut into wedges
Directions:
Heat the oil in a large pot over medium heat, add the fennel and cook until wilted. Add garlic and cook for 2-3 minutes until garlic is fragrant then add in the red pepper flakes. Add wine and increase heat to medium-high until wine is brought to a simmering boil. Add clams and butter, cooked covered for 5-7 minutes, stirring occasionally, until clams have opened. Discard any clams still closed. Add parsley and give the pot a quick stir. Transfer clams and broth to a large serving bowl, serving with lemon wedges on the side.