I can't believe that I have not posted this yet.  This is my go to simple dinner, that is a favorite at my house. Try it and you will love it.  It is easy to do in bulk and reheats really well, making it a buffet staple.  The only thing I warn about is to get real marsala wine and not marsala cooking wine.  The cooking wine has a ton of salt added to it.
INGREDIENTS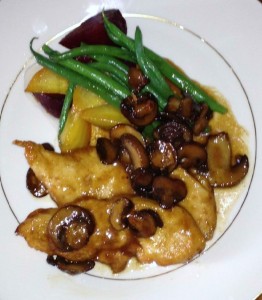 1¼ lb. chicken cutlets, Cut ¼" thick on a bias or diagonally
Kosher salt and freshly ground black pepper, to taste
⅓ cup flour
5 tbsp. olive oil
8 oz. crimini or baby bello mushrooms
2 tbsp. minced shallots
1 clove garlic, minced
⅓ cup dry Marsala wine
⅓ cup chicken stock
5 tbsp. unsalted butter
1 tbsp. finely chopped parsley, for garnish (optional)
INSTRUCTIONS
1. Season chicken with salt and pepper and dredge in flour making sure to shake off the excess. Heat 2 tbsp. oil in a 12″ skillet over medium-high heat. Working in batches, add chicken, and cook, turning once, until dark golden brown, about 2 minutes each side. Add additional oil as needed. Transfer to a plate, and set aside. Add 2 tbsp. oil and then add mushrooms; cook until golden brown, about 8 minutes. Transfer to plate with chicken, and set aside.
2. Heat remaining oil in skillet, and then add shallots and garlic; cook, stirring, until soft, about 1 minute. Add Marsala and stock; cook, stirring and scraping bottom of pan for about 1 minutes. Return chicken and mushrooms to skillet, and stir in remaining butter. Cook until sauce has thickened, about 8 minutes. Remove from heat and season with salt and pepper; garnish with parsley, if you like.